English teacher Mrs. Stacy Clarke loves to read and says has loved to read her whole life. 
"Well, I was looking for a permanent full time position, somewhere that I could stay long term," Clarke said. "I stayed home for 12 years. And so I started subbing three years ago, and then took a contract the rest of that year, and nothing happened last year. I took another contract just for that year. So I wanted to find something more long term."
Clarke earned her degrees from Western Kentucky University where she majored in English and minored in writing. She also has a certificate in teaching English as a second language.
She says she has a soft spot for anything English.
"I've always loved English," Clarke said. "I didn't know that I would teach though. Like I said, I've stayed home for 12 years, and I adopted from foster care. And she was 11 when she came to live with me and she read on a first grade reading level. And so these past years, five years, I've worked with her a lot. And I got to where she is only one year below. She's fifteen now so that kind of inspired me to help other kids that do it full time."
Clarke says she loves to leave an imprint on her students and teach them real-life lessons along with her daily English lessons. She believes that maturity is important when it comes to students who will graduate to be adults in the real world. Maturity is sometimes scarce and she tries to enforce it a little in her students to better them off later down the road.
"[Something I would change is] the few kids that I have may have some inappropriate actions or behavior issues, and I wish that they could mature," Clarke said. "I wish that they knew by cooperating they're going to get so much further. Yet I can't force them to work."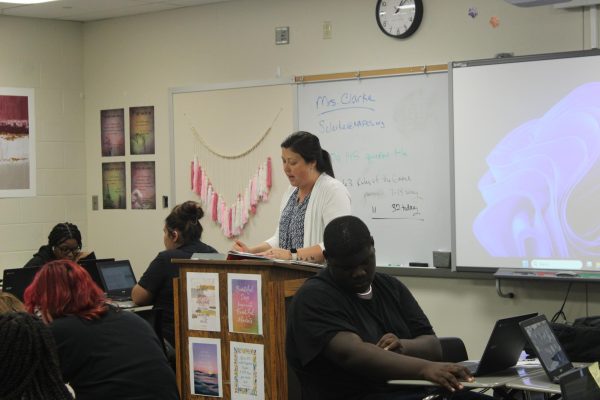 She says she enjoys teaching English because of the outcome and seeing how the students grow with the information and grow as a person.
She says that she has loved reading since she was little, but struggled in the second grade when it came to reading.
"[One person who inspired me to teach English is] a teacher I had named Mrs. Lucky," Clarke said. "I actually struggled with reading and in second grade, I had to join a reading group like the Blue Robin. And honestly I could barely read the second grade and by the end of the second grade babysitters books looked easy."
She feels that like herself, she understands that some kids don't have the same access to help at home. She also provides snacks as well as female hygiene products in her room. 
"I'm a kind person, but I try to be firm because these kids need structure," Clarke said. "I care about them and want them to succeed here but also in the future. I also try to incorporate life skills into my teaching. So like some days we'll talk about recycling numbers on the bottom of bottles. Sometimes I'll talk about personal finance and I'll tie it in maybe a journal page or something just to teach them things they really need to know."
She also loves teaching her students real life problems as well as how to fix them. She tells them about what bottles can be recycled and what cannot, and how to figure out the difference between each. She used to teach siixth grade before she came to NAHS, and she says the maturity level from sixth to ninth grade hasn't changed. She says in 10 years she wants to still be teaching because it is such a benefit for both her and the students. 
A few of her favorite things include the color pink, Thai food, Starbucks, fall season and dogs. She says that she enjoys the fall season because of the chilly football evening games with some chili for dinner. She also really enjoys singing in her free time.