What is the Best Chicken Sandwich?
In the world there is one thing everyone loves- the infamous chicken sandwich
I can't think of a time in my life in which I turned down a chicken sandwich, good or bad.
But what is the best chicken sandwich? From the bread, to the chicken and sauce, and even the price and attitude of employees.
The Chicken Sandwich War 
This war of sandwiches started August 12, when Popeye's released their spicy chicken sandwich and rocked the world. But even through that, nobody forgot about Chick-fil-A's classic chicken sandwich, which has been sold to the people since 1961 and was the first chicken sandwich ever sold publicly.
While Chick-fil-A maybe made the infamous chicken sandwich, nobody can forget the classic chicken restaurant KFC, which first opened September 24, 1952 and rocked the world, to this day with their fan favorite's, including their chicken sandwich, which was released in the US late February this year.
Nobody can talk about chicken sandwiches and not mention Zaxby's. Founded in Greensboro, GA in 1990 it has been a staple in the chicken world ever since. Held beloved by the people since 1990, they are no stranger to competition and good chicken.
Many people will never look at McDonald's and think great chicken, but there's no doubting their ability to market and build up excitement to customers. Since February 24 this year customers around the country have been excited about their new chicken sandwich and look forward to trying it.
While many may only look to big branch restaurants, there are many smaller market restaurants with great chicken. Including a restaurant beloved by locals, Joella's, which opened a restaurant in Clarksville last year, December 18 and has been visited by many since that day.
I have gone to many different restaurants to obtain the different chicken sandwiches, they were critiqued over the taste, ingredients, price, experience, attitude of workers, time to obtain, and more. The overall experience is the final determining factor in deciding the best sandwich.
Which ones the Best?
Chick Fil-A
Bread 8/10
Chicken-9/10
Service-10/10
Taste-9/10
Pickles-7/10
Overall Experience-9.5/10
Joella's
Bread- 7/10
Chicken- 10/10
Service-8/10
Taste-9/10
Sauce- 8/10

Me eating the Popeye's chicken sandwich.

Overall Experience- 9/10
KFC
Bread- 8/10
Chicken- 8/10
Service- 7/10
Taste- 9/10
Sauce- 6/10
Overall Experience- 8/10
Zaxby's
Bread – 7/10
Chicken- 7/10
Service- 8/10
Taste- 7/10
Sauce- 6/10
Overall Experience- 7/10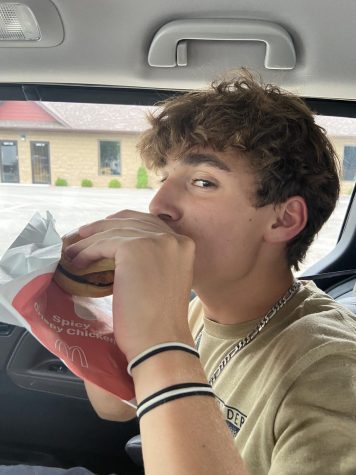 McDonald's
 Bread- 7/10
Sauce- 5/10
Chicken- 5/10
Service- 7/10
Taste- 6/10
Overall Experience- 6/10
Popeye's
Bread- 9/10
Sauce- 9/10
Chicken- 10/10
Service- 3/10
Taste- 9/10
Overall Experience- 9/10
In conclusion I find that the best chicken sandwich experience is Chick-fil-A. While Popeye's may have the better taste and crispness, I find the service to be the deal breaker. Chick-fil-A has always had great service and great chicken– two things that make for a great experience. It's like a great player who's always injured, the potential is there but there's more than talent. In the example of chicken, there's more than just the sandwich, including the workers, experience, etc.
With this being said, Chick-fil-A takes home the crown. It's not easy to declare a winner with so many great sandwiches, but I found Chick-fil-A to be superior to the rest in experience. While many others may find other restaurants to be more quality, I find Chick-fil-A to be the best. In the end I believe Chick-fil-A is the "Chicken Sandwich" of chicken sandwiches.
Leave a Comment