Blake's Bops: Rae Sremmurd Delivers On Promise
Hang on for a minute...we're trying to find some more stories you might like.
The ATL duo Rae Sremmurd came through on their promise earlier this week to drop three tracks off their biggest project yet.
The highly-anticipated new album, which follows up their debut album SremmLife (2015) and sophomore album SremmLife 2 (2016), is called SR3MM, and a release date has yet to be set.
On January 29, younger brother Swae Lee tweeted out that the new album will be a "Triple disk," featuring SR3MM, but also a solo album from each rapper respectively with Swae's Swaecation and Slim Jxmmi's Jxmtroduction.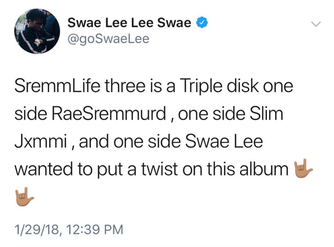 Previously dropping the first teaser off the project, "T'd Up," on February 5, hype surrounding the group has continued to build especially after they announced a new partnership with ESPN which had their unreleased music on the channel in several video clips the rappers had recorded.
"Powerglide" is a classic sounding Rae Sremmurd track. With Swae handling the hooks and setting the vibe for Slim to takeoff on, the track also features Juicy J, who for this particular song was a great fit.
The growth of the two can be heard as soon as you hit the play button. They give us the assumption that SR3MM is going to be nothing less than an album full of bangers.
Slim Jxmmi has a unique flow that no other rapper can touch. His heavy vocals flood a hard-hitting beat, followed by stop-beat punches that deliver all kinds of blows. "Brxnks Truck" was a great display of his raw use of simple lyrical use, while giving us that great flow.
On the flip side, Swae sticks with his more R&B type style on "Hurt To Look." Swae has two different sides, and this is really the first look we've got at this other side. When normally put on the same track as Slim, Swae compliments his brothers rapping approach by speeding his tempo. On the first released track off his solo album, Swae gives us a look at a great feels vibe.
You can listen to each of the tracks with the link below:
http://https://itunes.apple.com/us/album/powerglide-feat-juicy-j/1352042550?i=1352043041
http://https://itunes.apple.com/us/album/brxnks-truck-feat-rae-sremmurd/1352019539?i=1352019730
http://https://itunes.apple.com/us/album/hurt-to-look-feat-rae-sremmurd/1352019172?i=135201917
  Notable Lyrics 
"Bring out the Brinks truck, I'm young, fly and iced up/100 yard dash, *****, I had to run my price up/*****, boss your life up, I had to boss mine up/10,000 dollar outfit, hundred dollar lineup"
-Slim Jxmmi on "Brxnks Truck"
"I can feel the weight of what you say/I had explanations for days/Don't think you're the only one that's sane/It seems like we're not on the same page/All I do is think when I'm away/Color Burst and all I see are shapes/Sun goes away and that's what I call your name/She's here for good, and I'm here to stay"
-Swae Lee on "Hurt To Look"