The arrival of Astroworld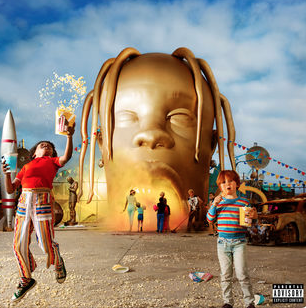 Travis Scott, a popular hip-hop artist and boyfriend to celebrity Kylie Jenner, has come out with his third studio album, Astroworld, and his tour dates show that he's coming to the KFC Yum! Center on November 19, right across the river.
"When I heard news of him coming to Louisville, I was honestly really shocked because most of the time we just get country singers and not big hip-hop artists like him," sophomore Ceniyah Barker, concert-goer and girlfriend of an obsessed Scott fan, said.
The most well-known, to this generation of teens, hip-hop artist that has come from Louisville is Bryson Tiller, who consistently raps about his past struggle in the city and his come up since then. Other than that, not many rappers originate or even tour in Louisville, Barker added.
"I wasn't expecting him to come here when he dropped the album, but I'm very excited that he is," sophomore Kyah Grimes, long-time fan and concert-goer, said. "Louisville is becoming more well-known and I'm happy to be able to see him without having to travel far."
Barker and Grimes already have bought their tickets for the night in question.
"My mom bought me the tickets for my birthday, and I'm really glad she did – I love Travis," Grimes said. "He seems like a really dope person, and I've already seen him perform before, so I know this concert is going to be great."
Students attending, including junior Nati Ems, are looking forward to multiple aspects of the concert.
"The thing I'm most excited for would have to be to see Travis rap really fast, I think that would be cool to see in person and not just through my headphones," Ems said.
"I think the concert is just going to be so much fun for anyone that attends," Barker said. "I expect the crowd to be super hype and the same goes for the performers. I can't wait."
The performance will include special guests, and rumor has it Trippie Redd, Gunna, and Sheck Wes are joining him.
"I expect them to bring a lot of energy just how Travis will," Barker said. "I've seen videos of them performing before and they always do a fantastic job of hyping the crowd up and making it a fun atmosphere."
In less than two months, fans will finally get to see Scott in all of his rap glory.
"I'm hoping to see a big atmosphere full of people shouting along to his songs and just have an amazing time with my friends," Ems said.
Tickets for the concert are available here and at the KFC Yum! Center.